Things to do in Blue Mountain
Blue Mountain Lodge sits at the foot of Blue Mountain, which is part of Australia's 3,500km-long Great Dividing Range. The countryside at the mountain's base is unique in all of Queensland in that it experiences four distinct seasons and sometimes receives snowfall. Blue Mountain Lodge is a convenient base for exploring national parks, state forests, wineries, and farms across the Granite Belt, as well as in the nearby town of Stanthorpe.
Within the Great Dividing Range, the Granite Belt area — centred on the town of Stanthorpe — is famous for its granite outcrops and bushland. It offers visitors a variety of year-round activities.
1
BLUE MOUNTAIN
Even without leaving the property, you can catch an interesting sight almost everyday — that of the wedge-tailed eagle, which lives on Blue Mountain. You can climb the mountain or explore the surrounding bushland on foot. Several groups organise hikes and campouts that both locals and visitors can join.
The Stanthorpe Field Naturalist Club Inc., for instance, regularly hold outings from February to November.
2
FOOD & DRINK
More than 50 wineries dot the Granite Belt, including Monticello Estate, a mere 10-minute drive from Blue Mountain Lodge. With plenty of farms and orchards, the region sees a surge in demand for fruit and vegetable pickers from November to May. Seasonal fruits include figs, olives, stonefruit, persimmon, apples, berries and pears.
Those who prefer beer will enjoy the region's boutique breweries, while foodies will be satiated with artisan bread, hand-made jams and preserves, chocolate, and farmhouse cheeses.
3
WATER ADVENTURES
The Storm King Dam, about 10km southeast of Stanthorpe, is home to many water birds, including pelicans. Activities include:
● Water skiing
● Sailing
● Birdwatching
● Swimming
● Fishing (species include golden perch, murray cod, silver perch, jew and river blackfish)
Click here
for more Granite Belt waterways.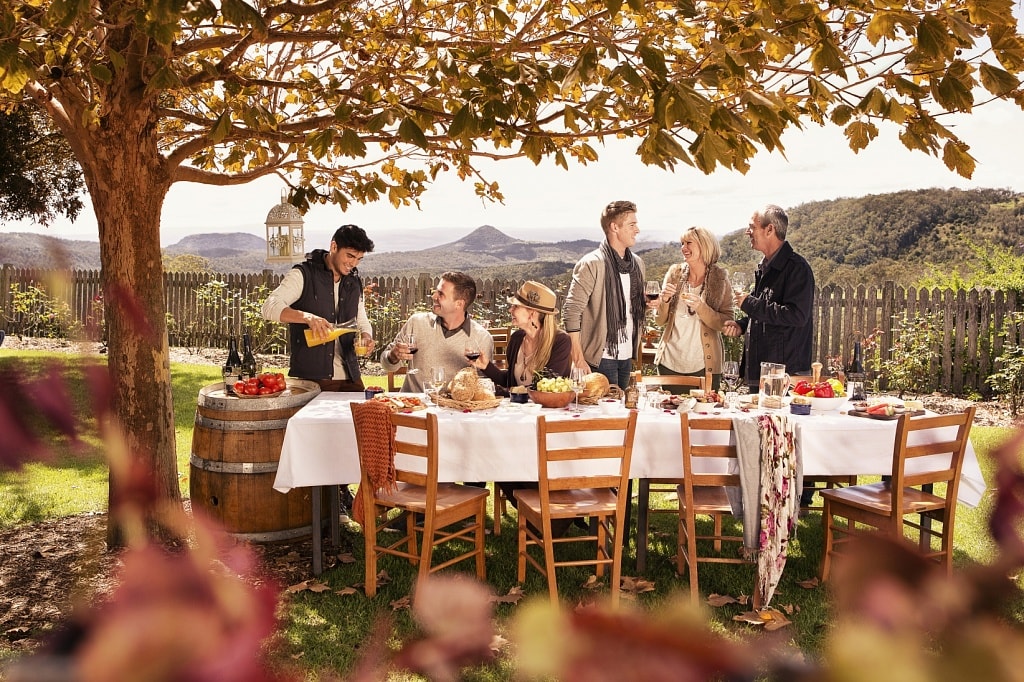 "Photo courtesy of Southern Queensland Country Tourism"
Blue Mountain Lodge is located within the Southern Queensland Country Tourism region which offers many attractions to visitors and locals alike.
For more information on some of the many splendid attractions in this regions, contact the following link:
www.southernqueenslandcountry.com.au
4
NATIONAL PARKS
National parks in the region include:
Girraween National Park
"Girraween, meaning 'place of flowers', is a park of massive granite outcrops, large angular tors, and precariously balanced boulders. Spectacular wildflower displays splash colour among the granite in spring."
Sundown National Park
"Sundown is a rugged wilderness area of spectacular sharp ridges and steep-sided gorges. The Severn River and its tributaries, woodland birds and remains of pastoral and mining heritage can be discovered via maintained walking tracks, challenging remote walks or the four-wheel-drive (4WD) track."
Bald Rock National Park
"From Bald Rock picnic area, take one of Bald Rock National Park's signature walks that lead to Bald Rock summit via Bungoona or Rockface walk. On these walks, you'll take in views across the Northern Tablelands region, native Australian plants and animals, and of course, Bald Rock — the largest exposed granite rock in Australia."
Boonoo Boonoo National Park
"Boonoo Boonoo is the ultimate romantic setting, especially after a good rainfall. From the lookout is an uninterrupted view of the Boonoo Boonoo River cascading over the granite cliff edge to become a spectacular waterfall that plunges 210m into the gorge below."
5
GOLF
Stanthorpe Golf & Country Club — This 10-hole golf course is located in Stanthorpe and is known for its resident Eastern Gray Kangaroos.
Tenterfield Golf Club — About an hour's drive west of Stanthorpe, this 18-hole irrigated course is known as one of the country's finest. Its landscape includes picturesque pin oaks, poplars, deodar pines, ash, wattles, gums and fruit trees.
Warwick Golf Club — This 18-hole golf course is a 45-minute drive north of Stanthorpe.
6
WEDDINGS
You can hold your wedding at Blue Mountain Lodge — nearly anywhere in the 21-hectare property.
Feel free to contact us to discuss your wedding or for advice on vendors in town.
7
EDUCATION
Opened in March 2007, the Queensland College of Wine Tourism offers nationally accredited Certificates in Wine Operations and Hospitality, as well as up-skilling programs. The $8.5-million facility also houses the Varias Restaurant, Conference and Function Centre and the Banca Ridge Winery and Cellar Door.
8
STANTHORPE
Elevated about 3,000 feet above sea level, Stanthorpe is one of the few places in the Sunshine State where you actually need to put on thick coats in the winter. It lies on the New England Highway near the New South Wales border 223km (139mi) from Brisbane — roughly a two and half- to three-hour drive from Brisbane via Warwick.
History
Initially a pastoral area, the town was founded by tin miners in 1872 and attracted immigrants, including Italians, who brought their wine-making art to the region. The miners turned to farming when tin prices fell. This history is reflected in the town's present-day multiculturalism, leading to an open and friendly attitude towards visitors. Several old houses of miners, as well as a hotel, railway and mine, are listed as heritage sites.
Stanthorpe was also a major resettlement area for soldiers after the First World War.
Art
Apart from discovering the town's history through its heritage sites, one can visit the Stanthorpe Regional Art Gallery, home to a collection of almost 900 traditional and contemporary pieces. Local artists also display their works at private galleries in their homes.
Stanthorpe is home to Australian country music singer James Blundell. Music events are held regularly in vineyards across the Granite Belt.
Quart Pot Creek
The landscaped grounds around Quart Pot Creek are perfect for leisurely walks and picnics. You can also take a swim or feed the ducks. The creek runs through the town of Stanthorpe.
Flora
Stanthorpe's cool climate and granite soil make it conducive to the growth of hydrangeas, roses, wisteria and camellias, as well as deciduous oaks.
Shopping
Every second Sunday, the Stanthorpe Civic Centre hosts Market in the Mountains, offering products handmade by locals.
Visitor Information Centre
The Stanthorpe Visitor Information Centre at 28 Leslie Parade Stanthorpe, overlooking Quart Pot Creek, is open from 9am to 4pm daily.